What To Do About Dry Hands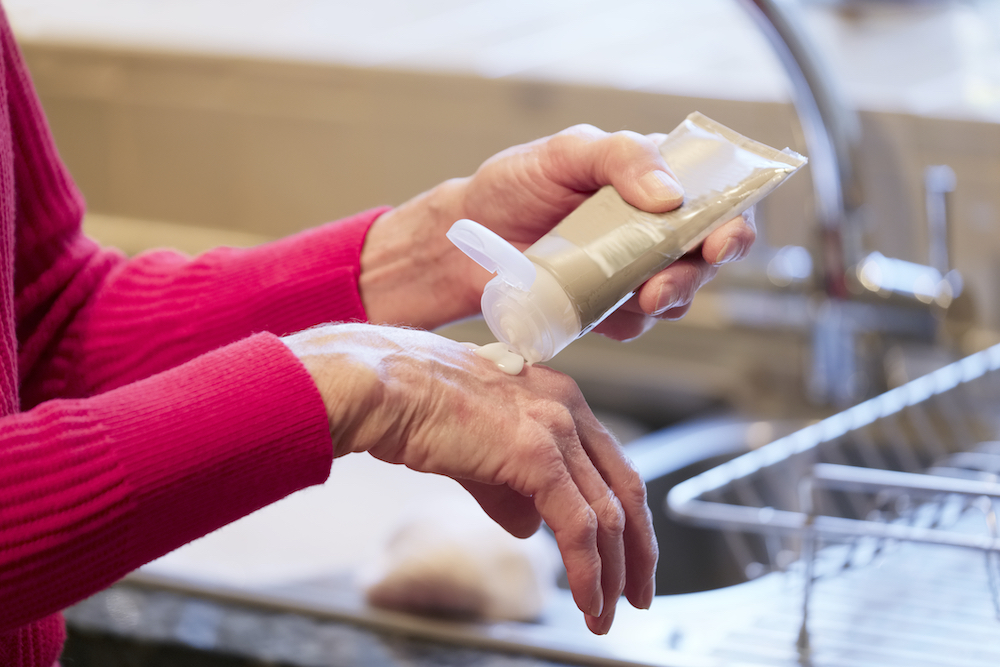 Even though spring is just around the corner, many people are still suffering with dry, cracked hands. Cold weather and constant conditioned air can be the perfect ingredients for skin that is itchy, painful and cracked, especially the skin of the hands. Frequent washing and the use of hand sanitizers contribute to the condition that can be very uncomfortable and lead to pain. 
You see, the skin on your hands and feet is significantly thicker than that on the majority of your body. It generally takes longer for this skin to be impacted by external factors, like weather, chemicals and heat. However, when they do become dry or chapped, it can have an even greater impact on your day-to-day life. Thick skin that becomes cracked can be more painful. Frequent use of the hands and feet means that you will notice the discomfort more regularly and that the chances of slow healing or infection are greater.
Luckily, there are a variety of tips to help you improve the texture and condition of your hand skin. Just like you use products on your face to help improve your complexion, there are products specifically for use on the thicker areas of skin. In addition to using the right products to prevent severely dry or cracked hands, there are some simple habits that can help you avoid the condition altogether.
How do you keep the skin of your hands healthy and hydrated? 
With a combination of quality skincare products and healthy skin habits, you can prevent chapped skin of the hands that causes you discomfort. Check out these dermatologist-approved tips for keeping your hand skin healthy and happy during the winter and beyond. 
4 Tips for Keeping the Skin on Your Hands Healthy
Choose the right hand creams and washes.
The key to healthy skin of the hands is to find the right products that contain effective moisturizing ingredients. Look for products that contain glycerin, lanolin or other moisturizers such as oils or dimethicone (an ingredient derived from silicone that is used as an emollient in many skincare products). Be sure to choose a hand cream that is non-greasy. An overly greasy or oily product will create a mess and discourage frequent use. Look for gentle hand soaps that contain glycerin.
Follow the right routine.
Skincare in general is not a one-and-done affair, especially when it comes to the thick skin of the hands. It is critical that you establish a consistent routine using the right products to see results. Keep several tubes of your hand cream around so you can always apply it when needed. Leave one at the sink, by your bed, in your car and in your handbag. This way, you are never without it!
Whenever possible, apply your cream directly after washing your hands while the water absorption level is at the highest point. Your moisturizer will lock in this moisture and be much more effective at hydrating your skin. Plus, it will prevent some of that greasiness that can get all over your clothing and everything else you touch.
Wash your hands properly.
Much of the dryness that people experience on their hands can be prevented or reduced by changing up the way they wash their hands. Consider the following tips when washing up: 
Reduce the amount of heavy lather that you apply to the thinner skin on the top of your hands. 
Choose a glycerin based soap that is gentle on the skin. 
Rinse well using tepid water, not too hot or too cold. 
Apply your hand cream immediately after washing to lock in the moisture. 
Apply a nighttime treatment.
Good skincare shouldn't stop when you go to sleep. In fact, overnight is a great time for your skin to heal and repair. Use this time to apply a nighttime treatment to your dry, chapped hands.
First, soak your hands in warm water so they absorb moisture. Then, apply a thick, lanolin based product to the skin. Cover your hands with gloves (socks also work!) and wake up to soft hands.
With a few simple steps and the right products, you can heal your severely dry, cracked hands. If these home remedies do not work, call your dermatologist for a consultation. There may be other treatments that can heal the skin of your hands and feet.
For an experienced and trusted Atlanta-area dermatologist, call Buckhead Dermatology today.