The Benefits of Aloe Vera in Skincare Routines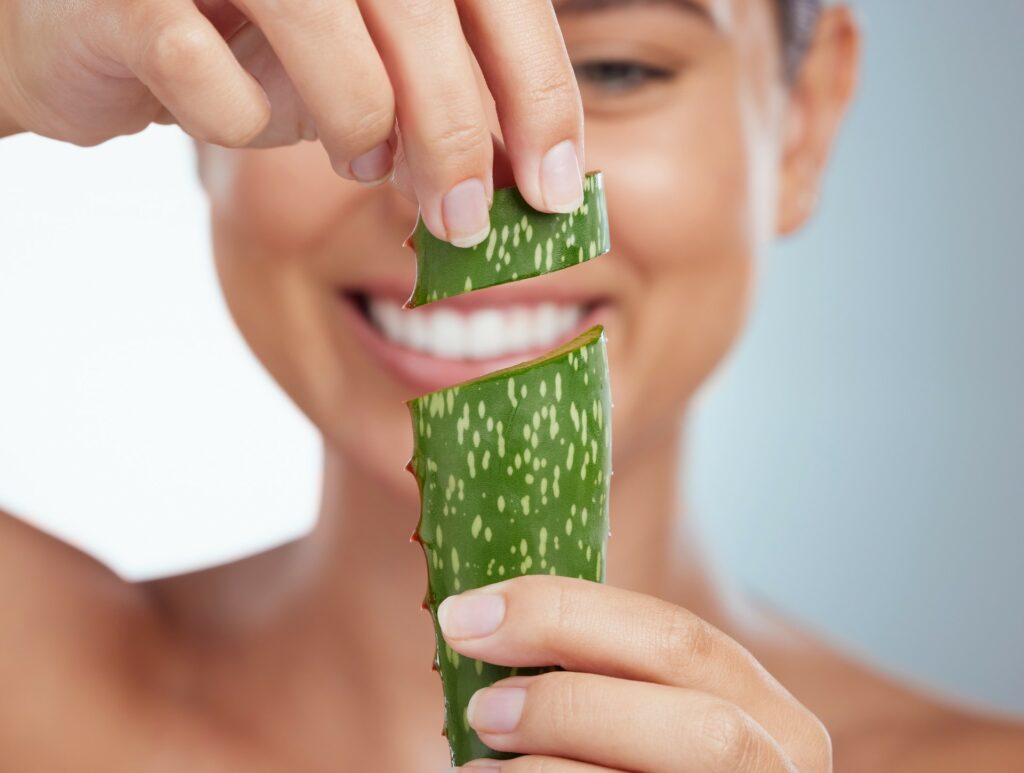 Most people think of aloe vera as the solution for over-sunned skin and the relief it provides. Aloe vera is an excellent after-sun care ingredient, but aloe vera goes well beyond this one use and provides many benefits when used in skincare. Integrating allow vera into your skincare routine may yield results you never imagined. Aloe vera can smooth, soothe, and moisten skin, help with acne and eczema, slow signs of aging, fade dark spots, and, of course, help provide relief for sunburns and minor skin injuries.
Aloe vera is a gel from the Aloe plant. Aloe is a succulent that grows in dry and hot climates. Allow vera is known for its antioxidants, antibacterial, and anti-inflammatory properties. All these increase skin moisture, boost healing, and can slow the signs of aging. Aloe plants have more than 70 vitamins, minerals, and amino acids. These compounds help heal minor burns, cuts, and eczema. Although not all licensed dermatologists agree that aloe offers expansive benefits to all users, aloe has well-known vitamins and minerals that benefit the skin, like vitamins C, E, and zinc. Some skincare specialists believe aloe vera is best used in tandem with other quality skincare products and that using it can enhance the effects of the other products.
Aloe Vera Moistens, Smooths, and Soothes Skin
Aloe vera contains humectants that attract water from the air and deep within the skin. Those with dry skin claim aloe has been a significant source of moisture for their skin. Aloe vera has qualities that bind moisture to the skin, adhere flaking epidermal skin cells, and leave skin smoother to the touch. In addition to additional moisture, Alie Vera is used for psoriasis flare-ups, which result in itchy, scaly, and red patches on the skin. Because of the anti-inflammatory qualities of Aloe vera, adding it to your skincare regimen if you have psoriasis can have a significant effect. Eczema has similar symptoms to psoriasis but can also leave skin susceptible to fungal and bacterial infections. Aloe's antiseptic and antibacterial properties are known to soothe eczema symptoms by adding moisture and protecting it from contaminants.
Aloe Helps Manage Acne and Slow the Signs of Aging
Aloe contains salicylic and cinnamic acids, phenol, and urea nitrogen, which inhibit fungi, virus, and bacteria growth. Salicylic acid is widespread in acne products because it sheds dead skin cells from the outer skin layers, and aloe decreases redness and inflammation. Aloe vera does both jobs – it gets rid of the old and soothes the new!
The vitamin-rich Aloe vera gel is loaded with vitamins C and E. Vitamins C and E are both known to inhibit the forming of free radicals, which cause skin cell damage. The salicylic acid acts as an exfoliator, leaving your skin ready to soak up the beneficial ingredients in your anti-aging skincare products.
Using Aloe Vera to Lighten Dark Skin Spots
Aloe vera has been shown to fade dark spots when used regularly in skincare routines. The two compounds in Aloe vera, aloin, and aloesin, were studied and applied for 15 days, four times daily. Studies showed Aloe vera was effective in fading both sun-induced and post-acne discoloration spots. Aloe vera is currently used as an active ingredient in many products to treat melasma, which is dark spots on the skin.
Aloe Vera is Effective in Sunburn and Skin Injury Care
Everyone knows that aloe vera is one of the most well-known sunburn treatments. Aloe vera increases collagen and speeds up the skin's natural healing process. The aloin compound has anti-inflammatory benefits that help relieve pain and promote healing. Aloe vera should be used for moderate sunburn, and severe burns with blistering are best seen by a medical professional to avoid infection.
Choosing the Right Aloe Vera Product
Anyone who wants to introduce aloe vera into their skincare routine will want to maximize the benefits of this amazing succulent-based gel. Pure aloe vera gel (there is no such thing as 100% since it requires a preservation ingredient) will yield better results than a formulated product. Look for pure aloe gel products because some products may have very little aloe in them, making them less effective. Since it is not required for skincare products to list how much of each active ingredient is included, look for aloe vera as one of the first three ingredients, which means there is likely a good amount. Always avoid aloe vera gels with alcohol, fragrance, or color added, which means they should be clear and not green. Additives such as these can irritate the skin and burn when treating a sunburn or minor skin wound.
Overall, in a reasonably pure form, aloe vera can have significant benefits when added to skincare routines. Aloe vera adds moisture to the skin and acts as a gentle exfoliant. Aloe vera may enhance skin when used to help with acne, aging, fading dark spots, and treating conditions like psoriasis and eczema. If you are serious about wanting a skincare routine that is affordable and works, contact your local dermatologist for the best results. If you live in Atlanta, Buckhead Dermatology is accepting new patients and has been helping clients achieve their best skin for decades.