Best Options to Address Skin Texture & Even Skin Tone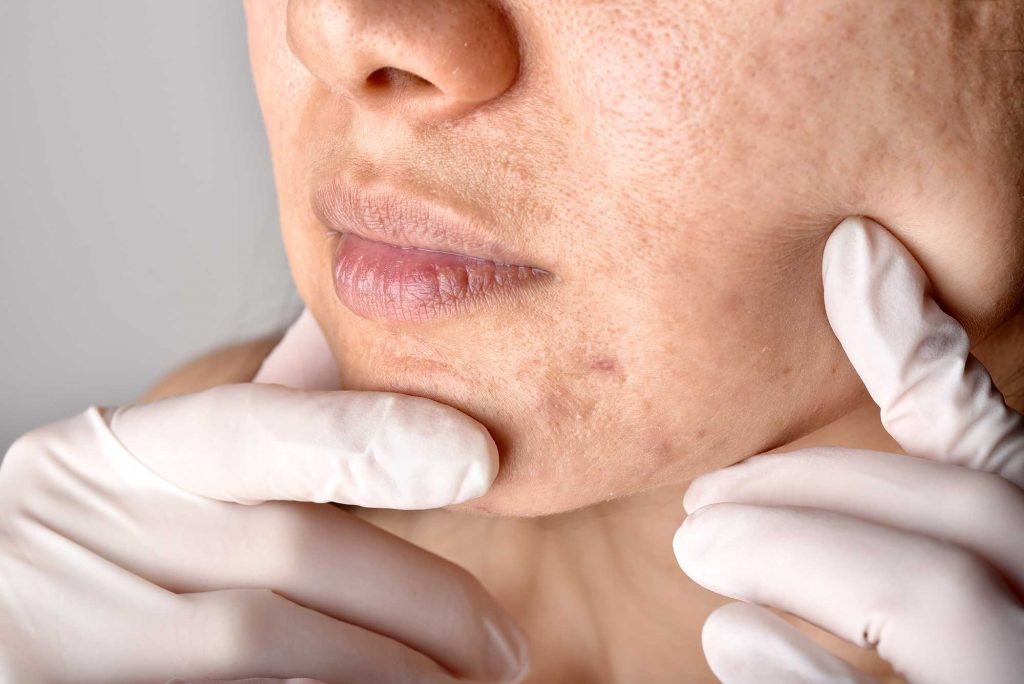 Knowledge is power. Simply knowing the benefits of addressing skin concerns and that many can be successfully managed and maintained through a reputable dermatology office specializing in black skincare is empowering. Anti-aging procedures continue to grow in popularity as men and women seek treatments from professionals that clients can trust to address and eliminate imperfections on the skin. Many areas of concern are handled with a treatment plan, including acne, wrinkles, age spots, fine lines, and more. Understanding the processes and finding what works best for you means achieving your desired results. Find a dermatologist that understands your needs, makes trustworthy recommendations and gets the results you want.
Common Skin Texture & Even Skin Tone Procedures
The most common procedures are chemical peels and laser treatments. These procedures are the same for everyone, with a slight variation on the level of chemical peel suggested (light to deep). Acne, wrinkles, light, and dark spots, among other common areas of concern, are unique to each individual. A more organic and natural process will begin with a consultation and a suggested treatment plan based on an individual's skin.
Laser resurfacing uses beams of light targeted at specific areas of the skin. The laser process will remove the thin outer layer of skin (called the epidermis) and the underlayer of skin (called the dermis) to stimulate the new growth of your natural collagen. Laser resurfacing is reasonably quick but can be painful depending on various factors. Chemical peels and the healing process effectiveness can vary significantly on who performs the procedure. The chemical applied (most commonly to the face) must be overseen carefully by a licensed dermatologist to determine when best to remove the chemical. If it is on the skin for too long or not long enough, the results can be disappointing.
There are many ideas out there about the process of laser skin resurfacing and chemical peels. Every individual's skin is unique. Although the process is the same, each person will have their own experience. If you have highly sensitive skin, there may be pain and discomfort during the procedure.
If the skin is treated, it is more sensitive to the sun. All dermatologists recommend daily sunscreen for everyone. The good news is that high-quality products available in today's skincare market offer many lightweight sunscreens with high SPF that can work flawlessly with makeup and other skincare regimens and not feel heavy.
As you look for the best dermatology care in your area, look for testimonials, free consults, and a precise treatment plan with expected results. You want to be comfortable with your dermatologist, able to ask questions, and have access to communication in between your treatment sessions. Professionals understand the necessity of trust and availability, especially for new clients.
Peel & Laser Alternatives
Dermatologists are trained in many different techniques and approaches to skincare. Some of the top Atlanta dermatologists will work closely with clients to help address any lifestyle changes that will help in improving skin imperfections. As is the case with acne, there are many things one can do to help minimize flare-ups and overall skincare that enhance the skin's look and overall health. A highly trained dermatologist can quickly identify harmful products or products over the counter that may be causing an allergic reaction. Environmental factors may also be part of the culprit, and a professional can point things out that empower clients to implement changes in their own lives to see results.
What to Expect
In any case, your dermatologist should be continually communicating with you and being available as needed. Most people starting a skincare treatment plan have questions along the way.
Multiple factors will factor into your personal experience. Depending on the type of treatment plan and the philosophy of the dermatologist you choose, your experience may be dramatic and quick or sustainable and long-term solutions. Using alternative skin treatment for a smoother skin texture and other areas of concern avoids the harsh treatment through laser and chemical peels. Excellent dermatologists, such as Dr. Sherrie Straughn at Buckhead Dermatology, have worked with many different skin types and sensitivity levels. She offers expertise in addressing all areas of skincare and recommends affordable products that work.
The results of skincare treatment can last for years. Changing your habits and finding a healthy routine to maintain lifetime skin beauty is something only truly gifted in the field can offer. You deserve to shine and be the best version of yourself. Do not let skin imperfections that leave you insecure or self-conscious hold you back. Find the best treatment for you and work with a licensed dermatologist to address skin issues that have either newly surfaced or that you have been trying to manage by covering up for too long.
Nobody can go back in time and undo the damage done to the skin, but skin treatment plans can eliminate skin damage and promote healthier growth in the future. The confidence boost that comes when skincare becomes a priority is incredible, and the skin's true beauty is revealed. Leading the industry in Atlanta, Dr. Straughn is dedicated to providing her clientele with alternatives to the harsh laser and chemical treatments most dermatologists offer. Dr. Straughn values the trust of her patients, knowing some come to her for their first skincare experience. The finest skincare available means only the treatments necessary to obtain the desired results and costs and medications that are affordable. Specializing in African American skin, Dr. Straughn is a member of the Skin of Color Society and continues to successfully help countless patients overcome concerns and issues with all skin types. Before you select an anti-aging treatment plan, contact Buckhead Dermatology and make sure you have all the knowledge necessary to make the best decision for your skin.