What's Your Bedtime Skin Care Routine?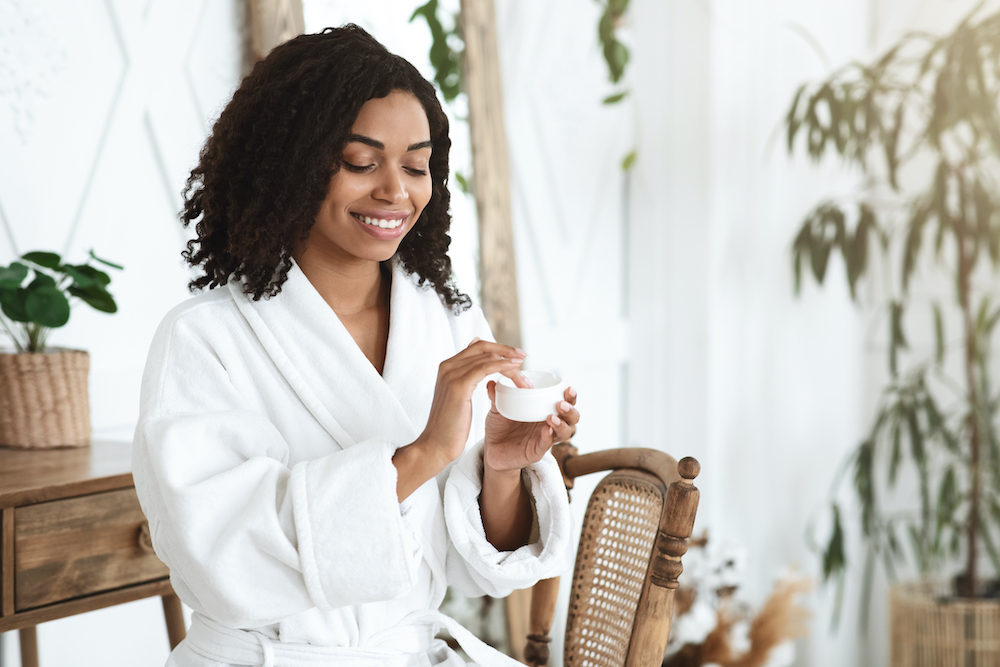 What do you do to take care of yourself? Many people exercise or get massages. Others get cozy and read a book with a delicious cup of tea. There are so many self-care rituals that can do wonders for rejuvenating both your body and your soul. Did you know that a nighttime skin care routine can have the same effects, while also completely changing the appearance of your skin?
A bedtime skin ritual is a great way to pamper yourself while doing something great for your complexion. Your body does so much healing and regenerating overnight that it makes sense to apply your most potent products before sleep. By choosing the right products and being religious about sticking to your nighttime skin care routine, you could see huge improvements in the complexion of your skin. As always, before starting any skin care routine, it is important that you consult with a dermatologist to make sure you are choosing the right ingredients for your skin. 
After a long day, there is nothing more luxurious than winding down with an effective skin care routine. By creating a relaxing bedtime ritual that includes skin care, you are preparing your body for deeper and more restful sleep.
How to Create Your Own Bedtime Skin Care Routine
Before creating your own bedtime skin care routine, consider what you are trying to achieve. Are you hoping to diminish the appearance of fine lines and wrinkles? Are you trying to rid your face of dark spots that you developed from too much sun exposure? Are you trying to tame break outs? Are you wanting to moisturize dry, cracked feet and hands? 
The first step in creating your routine is to identify your skin care goals. Once you know what you want to achieve, you can work with your doctor to choose the best products to help you get the results that you want. In addition to your skin care goals, consider the other benefits of a nighttime skin care routine such as relaxation, alone time, meditation or even preparation for the day ahead.
Consider a retinol product.
For many people who want to fight the signs of aging or those who experience frequent acne breakouts, products containing retinol can be very effective. The active ingredients in retinoids boost collagen production which can help reduce the appearance of fine lines and wrinkles. They can also improve the suppleness of your skin. Many people use retinoids to combat acne. Products containing retinol have been shown to reduce breakouts and to lighten age spots. 
If you are considering the use of a retinol product in your nighttime routine, consult with your doctor to choose a formula with the right concentration for your skin. You may be prescribed a product with a lower concentration until your skin becomes acclimated.
Consider an exfoliant.
Safely exfoliating your skin can be a challenge without the guidance of a board-certified dermatologist. There are plenty of products you can purchase at your local drugstore that promise to exfoliate your skin and reveal soft and smooth results. However, many of these products can be very harsh and may even result in rashes or breakouts.
Rather than manual exfoliation, your doctor may suggest a mild chemical exfoliant such as glycolic acid. Glycolic acid works to unclog pores and can be effective in your fight against acne. Similar to retinols, glycolic acid can boost collagen production and result in younger looking skin. Again, your doctor may prescribe you a product with a lower concentration of glycolic acid at first, especially if you have sensitive skin. 
Add in a moisturizer.
Healthy, glowing skin starts with the right moisturizer. Very often, skin concerns such as wrinkles or acne are the result of dehydrated skin. Bedtime is the ideal time to apply heavy duty moisturizers and oils to replenish your skin's hydration and encourage healing. Look for creams that are noncomedogenic or consider an oil.
Don't forget about your hands and feet.
Our hands and feet have a tendency to become dry or cracked from overuse and over-washing. Harsh soaps and hand sanitizers can contribute to the problem. Don't neglect these two areas of your body during your evening skin care routine. Apply a lanolin based treatment to your hands and feet before bed. For your feet, consider wearing socks after the application to increase heat production and improve your results. You can do the same on your hands by wearing gloves or a clean pair of socks. 
Calming rituals can contribute to your overall well-being. By taking time to create your perfect nighttime skin care routine , you are preparing yourself for a beautiful rest while awakening to brighter and healthier looking skin.
If you live in the Atlanta area and need guidance from a board-certified dermatologist, call Buckhead Dermatology of Atlanta and College Park today. Dr. Straughn has been treating people in the Atlanta area for over 25 years to help them address a variety of skin concerns including acne, hyperpigmentation and other conditions that require the help of a professional.