What Dermatologists Want You to Know About Hair Loss and Balding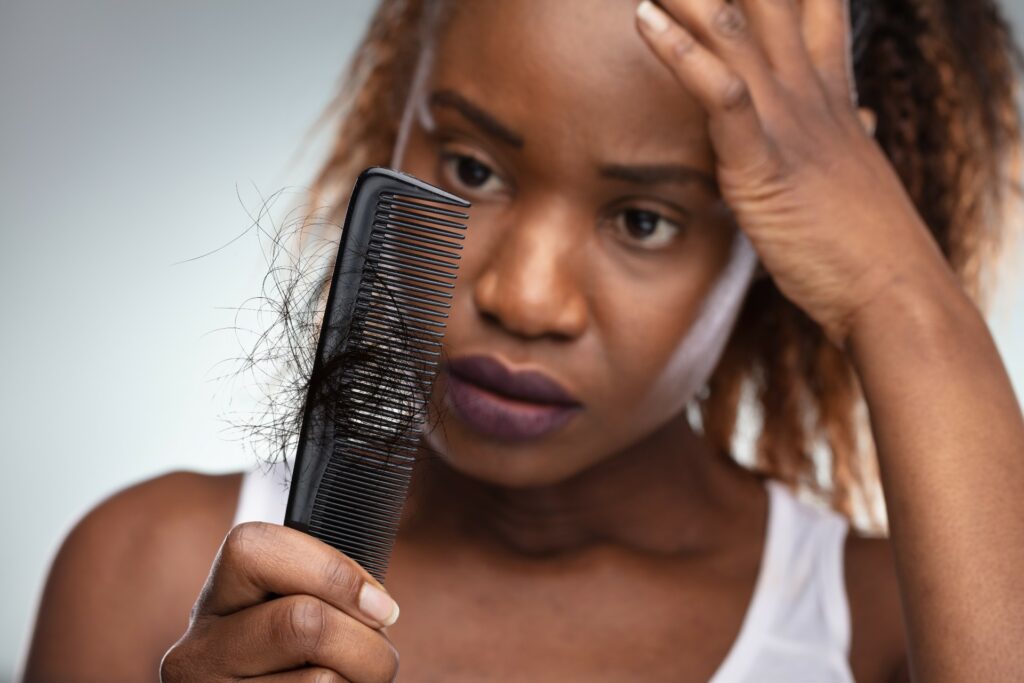 It may be a surprise to some all that dermatology encompasses. The practice of dermatology includes hair, nails, and skin health. When people experience baldness or thinning, they rarely think about seeking the help of a professional licensed dermatologist, but they should! Skilled dermatologists are experts in helping diagnose hair loss and provide guidance and counseling to help them regrow their hair.
Getting to the Cause of Hair Loss
As with anything, effective treatment must begin with an accurate diagnosis. Only board-certified dermatologists have knowledge about the causes of hair loss and have a range of understanding about treatments.
What To Expect When Visiting a Dermatologist About Hair Loss
When visiting a reputable licensed dermatologist, you can expect to answer enough questions to be able to help pinpoint the correct cause of your hair loss and balding. When it occurred, was it gradual or sudden, and other questions will help your dermatologist find the best treatment. During your office visit, the dermatologist will look at your scalp closely, as well as your nails and other areas where you have had hair loss. All these factors are relevant and related to one another. It is also likely your hair will be tested during your appointment. It may be necessary to gently pull on your hair to see if it is prone to breakage and how the hair is growing.
Hair Loss Due to Underlying Health Issues
In many instances, hair loss is a result of an underlying health issue. These health concerns may be disease, a deficiency of vitamins, a hormone imbalance, or a recent infection. In these cases, your dermatologist will ask you to have a blood test or scalp biopsy, which can both be performed in your licensed dermatologist's office. Sometimes, hair loss is due to multiple causes, and no treatment is the solution for everyone. Some hair loss is hereditary, and childbirth and anesthesia can also trigger temporary hair loss. Some hair will regrow on its own, and a dermatologist can also treat baldness when the products you have tried aren't getting you the desired results.
Times When Hair May Regrow on Its Own
In some situations, hair loss is not only common but an expected side effect. Childbirth, as mentioned above, is one of them. Others include major illnesses, and we saw increased hair loss reporting during the COVID-19 pandemic. It is commonly known that going through cancer treatments results in hair loss, and extreme weight loss can also be a contributing factor. Occasionally, treatment of psoriasis on the scalp can cause hair loss, but it will typically regrow on its own. Alopecia is a skin condition that causes the body's immune system to attack hair follicles, which leads to hair loss or the inability to grow hair. When visiting a licensed and board-certified dermatologist, they will be able to accurately diagnose your hair loss and tell you whether it will likely come back on its own or if you will need to take other measures to encourage regrowth.
Common Treatments for Hair Loss
Hair loss treatments can be done at home, making it convenient for those wanting to address their hair loss concerns. Even if hair is expected to grow back on its own, treatments may encourage faster regrowth as well as reduce further hair loss. The popular product, Minoxidil, can be used to help with early hair loss but can't grow back an entire head of hair. This product should be used as directed, and it may take six to twelve months to see noticeable results. When using this product, once treatment stops, you may begin losing hair again or notice it is thinning.
Laser Treatments for Hair Growth
Laser treatments are another treatment option but do not have the same amount of scientific evidence, and not all patients experienced hair growth and increased thickness using this method. Micro-needling uses tiny needles to stimulate the scalp, and it is often used in combination with Minoxidil. Although micro-needling devices can be purchased without a prescription, it is best to work with a licensed dermatologist to ensure safe and effective use of the equipment. Not all devices are equal, and when you are investing in something for long-term use, it is best to get advice from a professional.
Injections for Hair Regrowth
A dermatologist's office will be able to offer injections into the bald spots and thinning areas of your scalp. Injections are typically done every 1-2 months. Injections can be done in the office and have shown to be incredibly effective, including those with mild alopecia areata. Hair transplants are another option but will not be performed by your dermatologist. However, knowing your root cause of hair loss helps you make the best choice for treatment. If you live or work in Atlanta and have questions about hair loss and blading, contact Buckhead Dermatology today for an appointment!