Oh, Honey! Tell Me About Healthy Skin!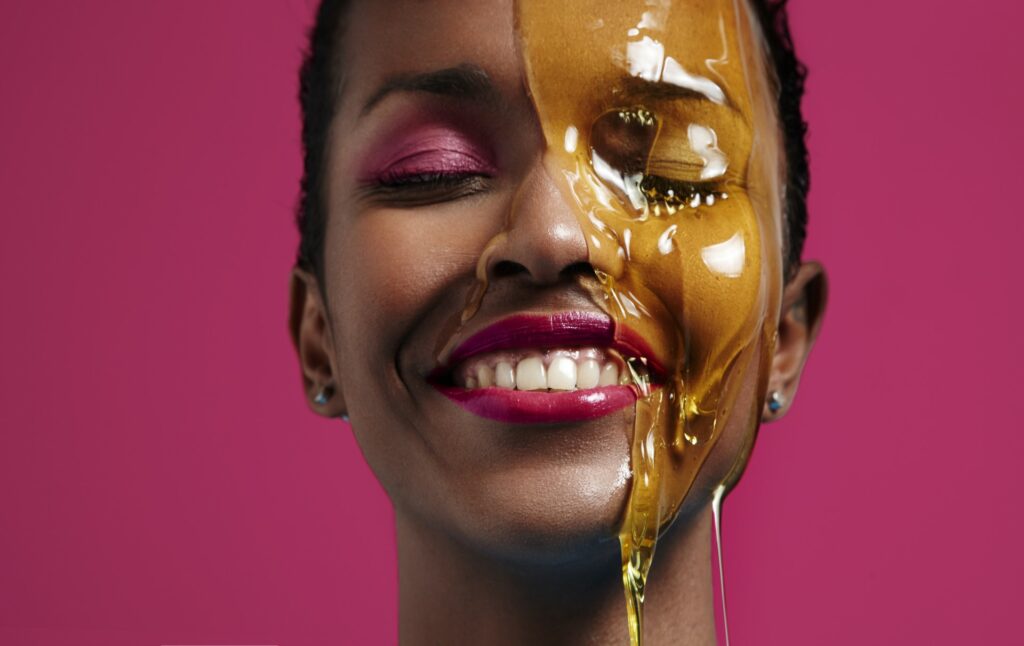 The sweet gift of honey was used in ancient times to treat wounds. Its qualities ward off germs and reduce inflammation, so some people continue to use it to achieve healthy skin. However, today, most people think of this sweet, delicious treat best suited for a cup of tea or atop an acai bowl. The British love honey on toast, but Americans typically enjoy it in liquid or dissolved form. However, honey is known to have many health benefits beyond the pure, delicious flavor that comes as a sweet gift from our favorite pollinators, the bees.
Honey's Expansive List of Benefits May Help Achieve Healthy Skin
Many claim that honey's expansive benefits, internally and externally, have helped them address skin concerns, like acne spots, and achieve healthy skin. However, experienced dermatologists will not tell you to smear any honey off the grocery store shelf onto your skin at any time. The guidelines of using honey directly, as well as products containing honey or bee pollen as ingredients, should be used according to directions. Additionally, any adverse reactions to bee stings or honey products should be approved and overseen by a reputable licensed dermatologist.
The Skincare and Beauty Industries Include Honey's Natural Qualities in Their Products
Beauty product designers always seek new products to give customers what they want. Beautiful skin. The benefits of honey have led many leading beauty products to incorporate honey ingredients for those seeking to enhance their skin's beauty.
Today, although some dip their finger in a container of honey and dab it on a pimple, it does not do much. Most studies found that antibacterial soap might be slightly more effective at keeping germs at bay. A better way to get the skincare benefits from honey is by finding a high-quality and affordable product that contains it. However, if you still want to try it, look for manuka honey, which has a minimum rating of 10 UMF, to ensure it has enough germ-fighting power. There is some controversy about the high price of this famous New Zealand original honey, but those who use it claim its quality is worth every cent.
Skincare Products That Contain Honey
There are masks, anti-aging serums, lotions, lip butter, and shower gels that contain honey. And don't forget the variety of scalp and hair care options that include the popular bee ingredient too!
Honey has smoothing, softening, and anti-aging properties. Since not all honey is created the same, it is best to find those containing raw or non-processed when considering beauty skincare products to achieve healthy skin. This is most often found in crystallized form. Honey is the "anti" ingredient in bacterial, oxidant, and inflammatory.
Masks
Masks may come pre-packaged in an airtight sleeve, in grainy sugar form (but don't eat it, although it smells delicious!), or versatile mud that can act as a cleanser or a mask depending on how much it is diluted with water. Any mask should be followed up with proper skin moisturizer, so the refreshed skin lasts and gets the moisture it needs.
Cleansers
Some cleansers containing honey as an ingredient can remove makeup as well. If you have sensitive skin, choose products containing other ingredients to nourish the skin after washing, like peptides and shea butter.
Makeup removers will have certain honey types since the product is likely used around the eyes, and responsible product designers consider that. If you have any adverse reactions to honey or pollen ingredients, stop using them immediately and see a licensed dermatologist or skincare professional.
Hand Lotions
Lacing beauty products with honey opens the doors for just about anything to contain some essence of honey. Since honey can add moisture, using hand lotions or balms with honey may be surprising, not just for hands but those dry, winter cuticles. Once you find one that works, stick with it!
Moisture, Moisture, Moisture
Whether in body lotion, a hydrating serum, or a skincare repair treatment, honey has been shown to help moisturize the skin. Honey's soothing and softening properties enhance many moisturizing skincare products.
Scalp and Haircare
Haircare products that contain honey claim it clarifies the scalp and hair. Peppermint and citrus are likely included in scalp products, which both have purifying properties when used on the scalp. These products break down buildup and can help with an itchy, dry scalp. Dermatologists also specialize in hair and nails, so if your scalp concern seems serious, seek professional advice from someone with experience for the best way to address the issue.
Whether or not you choose to seek out products with honey as an ingredient, it is comforting to know that the best dermatologists know the products on the market and the risks and are qualified to assess skin type, regardless of color, to help clients achieve their best skin health. If you seek an excellent dermatologist and live in Atlanta, contact Dr. Sherry Straughn at Buckhead Dermatology today for an appointment!