How to Take Care of Your Feet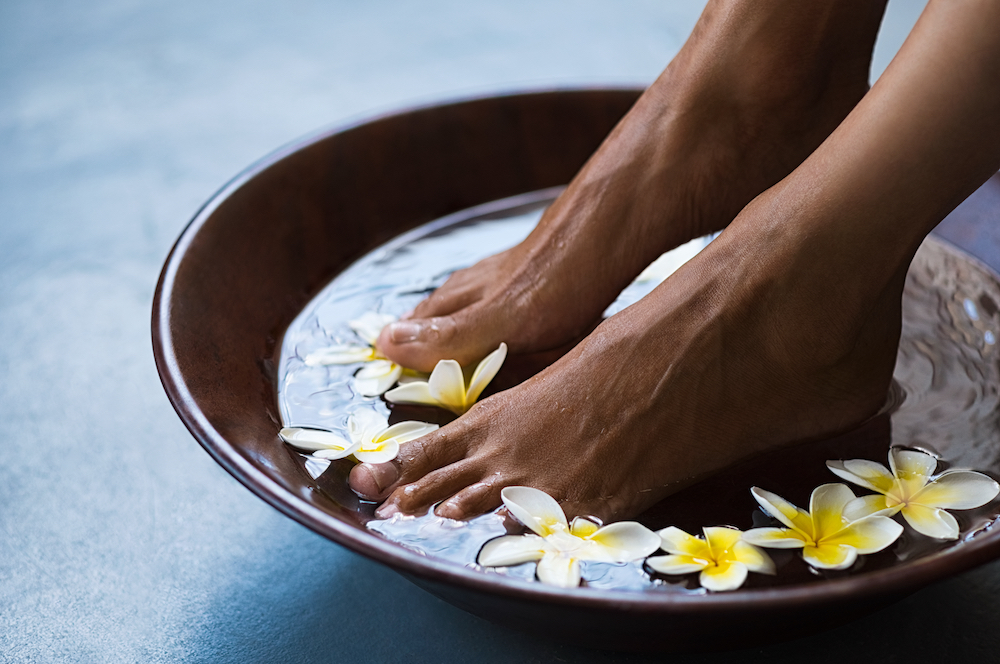 While the days of bare feet and sandals might be coming to an end as we enter the fall season, it does not mean that you should neglect to take care of your feet. Dry, cracked heels can be painful and lead to other problems down the road. Male and female patients can both experience extremely dry skin, calluses and cracks that require at-home care as well as help from a board-certified dermatologist.
For more severe or persistent cases, it is best to consult with your doctor to ensure that you are addressing the issue safely. However, there are still plenty of things that you can do at home to treat dry, cracked skin of the feet, or to prevent the condition altogether.
3 Steps For Caring For Your Feet
Regular foot care is more than just a way to relax. It should be an important part of your overall health and wellness routine. If you want to take better care of your feet, follow the 3 steps below. Consult with your dermatologist if you have any cracks or callouses that just won't heal – they could require more advanced treatment than can be done at home.
Exfoliate
Just like on the skin of your face, regular exfoliation can remove dead skin cells that can build up over time. For very dry skin on the feet, it is best to use a cream that contains urea.
At low doses, urea creams can act as a humectant, adding additional moisture to the skin to increase hydration and aid in the exfoliation process. Urea at higher doses works by breaking down proteins in the skin, resulting in the shedding of the dry, scaly areas.
There are plenty of over-the-counter products that contain effective amounts of urea. You can also get higher dosages through a prescription from your dermatologist.
For maximum effect, apply the cream to your feet after your daily shower when your skin is warm and damp. If possible, wrap your feet in socks to help the cream absorb deeper into the skin. Once a week, use a pumice stone to gently exfoliate the skin and remove dead skin cells.
2. Moisturize
After targeting callouses and cracked, dry skin with a urea-based product you should make sure to keep your feet moisturized. While body butters and thick creams can be very moisturizing, petroleum-based products can be more effective and often more affordable. Applied topically, petroleum acts as a barrier that prevents moisture loss from the skin.
Your local pharmacy sells foot masks that can provide additional moisturizing benefits. Plus, they usually smell good and help you relax after a long day on your feet.
3. Treat
If you have corns, callouses or cracked skin on your feet, there are self-care steps that can be taken at home. Soaking your feet in warm water can soften the hard spots and make it easier to exfoliate. Your doctor may prescribe a patch or ointment that contains salicylic or glycolic acid which will help increase cell turnover and further aid in exfoliation. In areas that become irritated, try wearing a pressure pad or band-aid to prevent infection.
In addition to treating the condition, you should make sure that you avoid irritants such as ill-fitting shoes, high heels or repetitive movements that could cause a blister or callous to develop. 
Atlanta Dry Skin Dermatologist
The skin on your feet must be cared for in much the same way as the skin covering the rest of your body. It must be exfoliated, moisturized and treated to ensure optimal health. Dry, cracked and calloused skin can be uncomfortable, unattractive and may even result in infections. By trying some of the at-home treatments mentioned above, you can take better care of your feet now and prevent issues in the future.
If you live in the Atlanta area and are struggling with dry, cracked skin on your feet, contact the dermatology practice at Buckhead Dermatology. Dr. Straughn has more than 25 years of experience treating a variety of skin conditions, specializing in treating skin of color. With two convenient offices located in Atlanta and College Park, schedule your appointment today to address your calloused or cracked feet.