Dermatologists Help Patients with Keloids Overcome Distress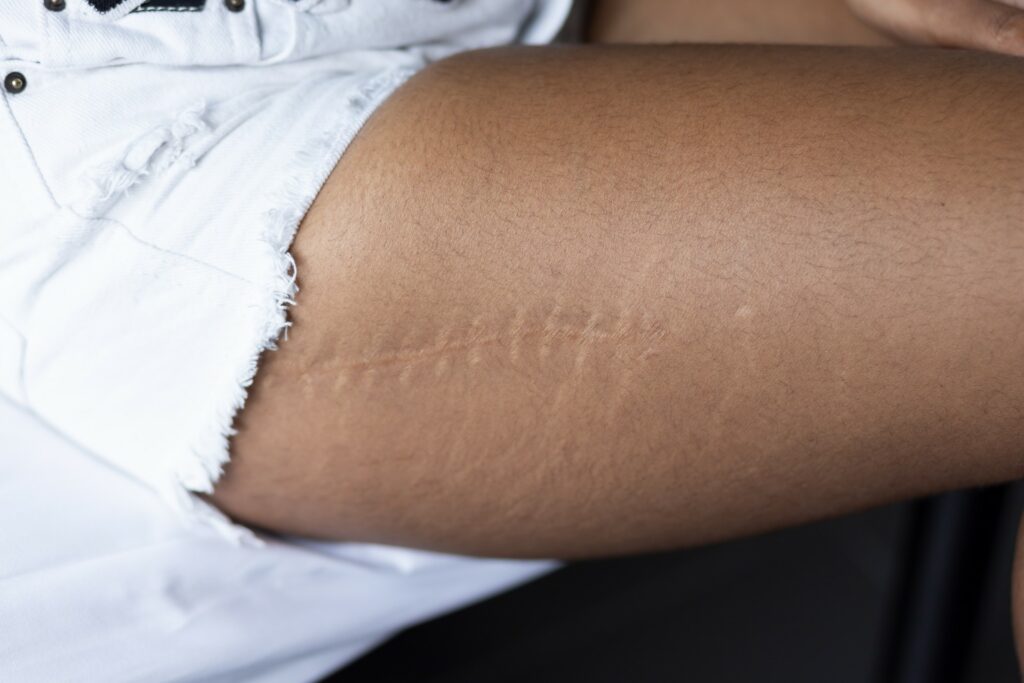 There are many reasons a person may experience scarring on their skin. A keloid is a raised and hardened scar typically only addressed when on a visible part of the body. Those who suffer from emotional distress due to keloids are finding help overcoming the challenges of visible scarring through local and reputable dermatology offices. Licensed dermatologists can provide significant improvement using keloid treatments.
Skin Trauma Causes Keloids
Trauma to the skin includes injuries to the body and seems spontaneous. Some people have skin that is more prone to keloids after a skin injury, and it is due to an overactive system that is working hard to heal the damaged skin. The production of collagen creates scar tissue well after the wound is closed. A keloid may not appear until several months after the skin injury and can continue to develop for up to a year.
The Most Common Areas and Skin Traumas
There are common skin traumas that continually trigger keloids, and those include tattooing, piercings, surgeries, acne, vaccinations, burns, cuts, and scrapes. Even some diseases may result in keloids, including Chickenpox. The keloid typically forms on the earlobes, shoulders, cheeks, and chest. The size varies greatly, and many smaller keloids never get treated. However, when a keloid reaches the size of a golf ball or larger, this is when patients seek help from a doctor or dermatologist. Even though keloids are not dangerous to the body, their discomfort can take an emotional toll on someone feeling self-conscious about the area and trying to conceal it.
Keloids will eventually stop growing, and as mentioned above, growth may continue for up to a year after the trauma. Keloids will not shrink over time and never disappear without a treatment plan designed by a skilled dermatologist. Dr. Sherrie Straughn of Buckhead Dermatology has helped many Atlanta patients overcome their skincare concerns through effective keloid treatment plans with great care and attention.
Professional Dermatologists Keloid Treatment Plans
Since keloids do not have serious health risks, the treatments and procedures are primarily cosmetic. There are many options for treatment, and experienced dermatologists are licensed and certified to use a variety of keloid treatments. Treatment for keloids can vary from topical creams and compression treatments to surgery. The risk of surgery to remove a keloid is the appearance of another keloid due to the skin trauma caused by the surgery.
Every patient is unique and should work closely with a professional dermatologist to find a treatment plan that fits their budget, needs, and desires. Some of the topical treatment plans, like silicone pads or pressure treatments, can take six months to a year to see the desired results. There are treatments that require less time but have some possible side effects. Cryosurgery uses liquid nitrogen to freeze the keloid off, but this does have to occur multiple times and has been shown to lighten skin, which is more evident in patients with darker skin tones. Injections may be a treatment option and must be repeated monthly, but they are designed to soften the tissue of the keloid and reduce its size. Laser treatments are another popular treatment for keloids and are often combined with other treatments to lighten and flatten the keloid.
Getting the Best Care for Keloid Concerns
When it comes to appearance and skincare concerns, it is critical to work with a professional who genuinely cares and is open and honest with patients seeking to treat keloid. Nothing is worse than having false promises from an expert in their field only to find the treatment they suggested is not going to do what you expected. Anyone seeking keloid treatment should expect open and transparent communication about treatment plans, options, risks, and costs.
Open and Clear Communication
Understanding the risks, the time, and the treatment commitment may steer a person one way or another when it comes to deciding which keloid treatment is the best fit. Those who have keloid-prone skin should think twice before undergoing surgery for keloid removal. Patients with sensitive skin may not be able to utilize some of the topical treatments, and only a quality dermatologist has the knowledge and insight to help clients make the best decision. Work with someone locally who can provide testimonials from keloid and other skincare patients to get a true sense of the level of service one should expect. Why not use the internet as a resource to get the best care possible?
Again, it is such a personal decision when it comes to any skincare treatment plan. Keloid treatment that gets the desired results can change someone's life and give them the freedom to show off their skin's natural beauty. The best dermatologists will provide support throughout the process and want to see their clients get the results they are dreaming about.