Black Skincare Influencers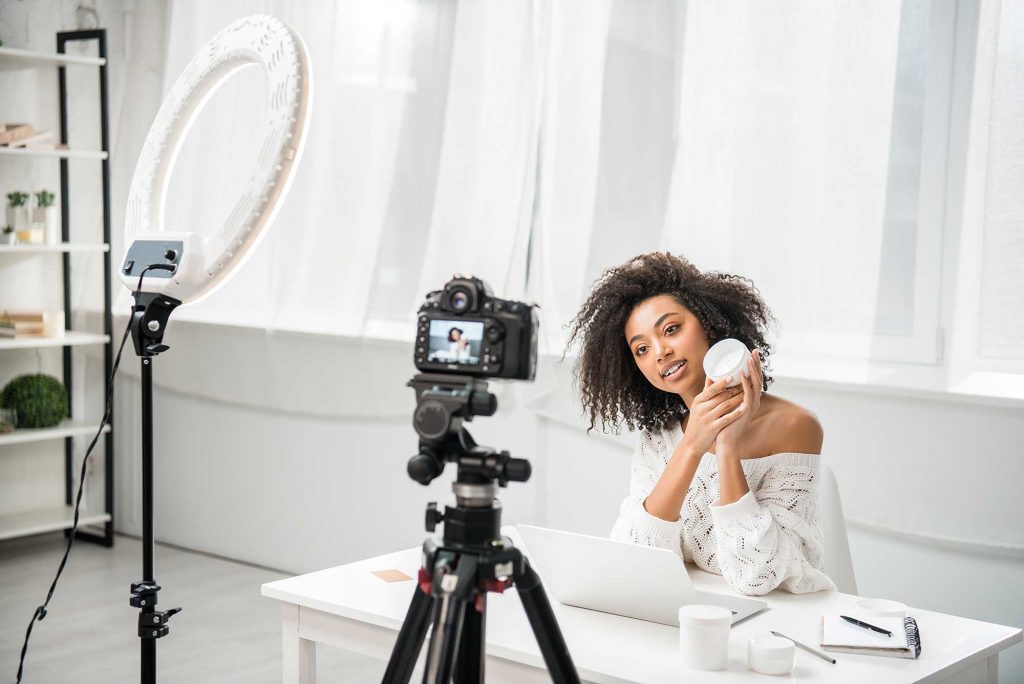 Although skin care is meant to be inclusive, it has historically been lacking in representing women and men of color. In 2020, Sephora set new standards of diversity not previously seen, including size, gender, but most notably racial recognition, with more than a third of the top skincare influencers being Black. Comprised of both men and women, these ambassadors were chosen as Black skincare and makeup influencers.
Showcasing skin care in a way that inspires boys and girls as they can picture themselves as part of corporations whose values are revealed through their inclusivity, elevating the African American community. As large fashion companies feature Black men and women in their ad campaigns and consider the various skin types in product development, inclusive skin care companies are moving in the right direction.
Social Media
Social media is currently the most used way to connect with like-minded individuals. A simple click on Instagram or Tik Tok uses an algorithm to target your interests. Those in the Black community with skincare questions and concerns follow Black skin care influencers to find out top secrets and hear product reviews from real-life people, not actors. As these trailblazers try new products, give reviews, and share hints and tricks to achieving beauty looks, the Black community celebrates greater representation on all platforms. Although there is still a long way to go, these popular role models break down barriers and lead others in sharing trends and skincare. The audience grows more engaged between tutorials, honest testimonies, and unfiltered content. Those with darker skin identify with and connect with others facing the same issues and have a relatable forum to talk about it.
Social media provides an easily accessible way to share information and even watch tutorials. Advice from how to wash your face to get the best results to different ways to treat acne on darker skin, the influencers want to help their followers navigate skincare. Hyperpigmentation and acne are two of the most common skincare issues addressed by the influencers. The influencers who are really taking the stage add humor and include hacks that many will try.
Notable Black Skin Care Influencers
Dermatology student Keren (@skinbykerr) is an advocate of sunscreen and has created her own line that is BIPOC friendly. Jackie Aina is known for her influential makeup tutorials but is also knowledgeable in treating simple skincare issues such as dry skin and offers affordable skincare products on a budget. Sean Garrette is an esthetician who continues to grow in popularity. He provides honest product reviews and a soothing voice that clarifies why he is considered one of the most followed Black skin care influencers today. Ashley White, based in Chicago, is an esthetician who answers questions of her followers and focuses on the basics every skincare routine should include. She also shares what she considers the most effective treatments for various skin concerns. These are just a few of the influencers out there hoping to help others with skincare tips. There are hundreds, which is incredible to see how social media creates a community of those with knowledge, experience, and charisma sharing with those seeking help and advice.
Let's celebrate what these incredible influencers have achieved in reaching an audience hungry for knowledge and information. Although Black skin care is more mainstream now than before, there is still work to create a truly inclusive look at skin care.
Although free advice is lovely, and often it is a personal connection that keeps us going back for weekly posts and updates from influencers, proper skincare routines may require professional help, especially for recurring issues. It is important to be aware that not everything with a good review will work for everyone. Skin is delicate, and often people have allergies to ingredients they didn't even know were an issue. If seeking professional skincare treatment, it is best to find a licensed dermatologist who can design a specific plan on your skin type and concerns. Reach out to Buckhead Dermatology for the best skin care treatment available in Atlanta.
Dr. Sherrie Straughn believes that skin is what matters most. She has successfully treated many skin types and eliminated acne issues, skin discoloration, bumps, light and dark spots. Additionally, she has helped many through skin cancer screenings and treatments that foster healing and healthy skin growth. Whatever your skincare concerns are, find a licensed dermatologist who genuinely cares about each client and offers a unique insight to clients with darker colored skin as she remains an active member of the Skin of Color Society. Offering current and effective treatments, Dr. Straughn can help you achieve the most beautiful you.